School transport
Each local authority (COBAN, COBAS, Val de l'Eyre) provides school transport services to take pupils to school quickly and safely. See the information appropriate to your area.
Please note
School transport adapted to handicapped pupils.
The Gironde département makes things simple: up to 100% of costs covered for suitable transport from home to the appropriate educational establishment, whichever form of transport is used..
School transport in Val de l'Eyre
The Val de l'Eyre local authority, under the aegis of the Nouvelle-Aquitaine regional council as main organiser, has school transport circuits in its area.
Since June 1, 2021, registrations for the 2021-2022 school year are open.
The Transport Department of the Nouvelle-Aquitaine Region invites students and parents to plan this registration as soon as possible so as to avoid any emergency effect a few days before the start of the school year.
Online registration is strongly recommended: the application fee, amounting to € 15, will be free until July 20. After this date, they will be billed again.
More information: School transport information page
Registration and processing of your application : the registration platform
Information sheets to download for each circuit : School transport circuits
Fuller information about the conditions applying to the service, financial provisions and rules relating to School Transport in Nouvelle-Aquitaine
School Transport in the Bay of Arcachon North
Find all the relevant information, and explanations of how to register your child(ren) on the COBAN site : https://coban-atlantique.fr/vivre-au-quotidien/se-deplacer/#transports-scolaires
Registration and processing of your application : TransScolaire COBAN
Practical help: locate the closest stop to your house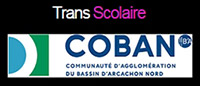 COBAN provides an on-line tool to help you locate the closest stop to your house and to see the route followed by the school bus : Find my stop
Useful information
COBAN school transport subscribers can use regional bus routes 601 and 610 free of charge, on presentation of their subscribers card, on Wednesday afternoons, Saturdays and Sundays and during school holidays (not summer).
COBAS: Pass Jeunes (youth pass)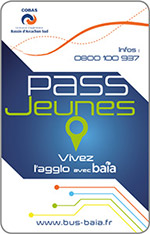 Pass Jeunes provides unlimited access to the whole COBAS network. The Pass Jeunes subscription covers the regular Baïa routes and special school buses.
Locate the school bus route closest to your house and find bus times: How-to
Download the registration document : Subscribe to Pass Jeunes (PDF, 5.4 Mo)
(the document must be printed, filled in and returned to the relevant department - there is no on-line registration)
Support and partners