By boat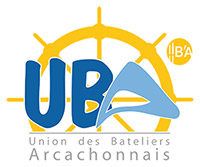 The Arcachon Boat Operators' Union provides shuttle services across the Bay.
Although people often fail to think about them, both regular and seasonal services can save time when crossing the Bay of Arcachon.
The Arcachon (Thiers jetty) - Cap Ferret (Bélisaire jetty) boat service runs all year and accepts bikes on board. Allow 30 minutes for the crossing.
Be aware that tide times may cause crossing departure times to be modified.
For information about boat shuttles:
---
Passe Marée maritime shuttles



The Passe Marée provides connections between Andernos-les-Bains and Arcachon but also between Andernos-les-Bains and Lège Cap-Ferret (in both directions) every day between the beginning of April and the beginning of November. A 3rd new connection is offered very regularly on the shores of the Cap Ferret peninsula between the Canon and Bélisaire piers
The shuttle offers 48 passenger seats and a maximum of 14 bicycle spaces, by reservation, and is accessible to people with reduced mobility (please notify in advance, as some boarding points are not accessible). Rates per connection (passengers and bicycles) or possible subscription formulas over 12 months.
Information, fares for each route, specific boarding locations and reservations:
>> Note that this service is not annual. It operates from April 6, 2022 until November 6, 2022.
Worth trying: the water bus

In the summer season only, a water bus offers round trips between Arcachon Petit Port and Moulleau jetty with a stop at Thiers jetty. The Baïa single ticket (€1) is accepted on the boat for low-cost travel.
Information : Arcachon water bus
Support and partners