Transport on Demand (ToD)
A public transport service complementing the "regular" routes, Transport on Demand provides a flexible, almost bespoke solution for targeted journeys. Known as ToD, this service targets different categories of people depending on whether they live in COBAN, COBAS or Val de l'Eyre.
COBAN ToD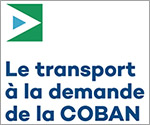 COBAN offers a Transport on Demand minibus service throughout its area. The service is available to all COBAN residents who register for it.
Find information about this service on the ToD page (click on "ON DEMAND").
Interested in using this service? Fill in the registration form available here : COBAN ToD form (PDF, 282 Ko)
A leaflet to keep handy : COBAN ToD leaflet (PDF, 1.6 Mo)
COBAS ToD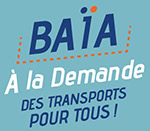 In COBAS, the ToD service is Baïa on demand, complementing the Baïa network. It has three components:
Station ToD: to get to the station to catch the first or last train of the day
Daytime ToD: to serve neighbourhoods not covered by the regular routes from dedicated ToD stops (see the telephone symbol on the Baïa plan)
Senior citizens' ToD: a dedicated service for the over-70s
Make the most of bespoke, flexible transport for your daily needs. For more information see Baïa on Demand
Download the Baïa leaflet for full practical information : Baïa on Demand leaflet (PDF, 2.5 Mo)
Accessibility service
COBAS offers TPMR, an on-demand transport service for the disabled. Operating door-to-door for greater convenience, a specially-adapted vehicle enables you to travel using the whole range of Baïa fares. The TPMR service is available from 8am to 6pm Monday to Saturday (excluding bank holidays).
See the Baïa on Demand page.
Val de l'Eyre ToD service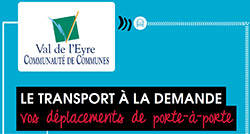 The Val de l'Eyre local authority organises transport on demand in partnership with the Nouvelle Aquitaine regional council. For flexible, practical travel within the area, Val de l'Eyre residents can (under certain conditions) take advantage of a range of fares based on those of Transgironde. In addition, the service offers specific destinations outside the local authority area (health or administrative services).
For more information : Val de l'Eyre ToD page
Support and partners