Cycling equipment and services
Find all the useful and essential information for cyclists: where to park and lock your bike safely, where to carry out essential maintenance, where to recharge an electric bike.
Secure bike parking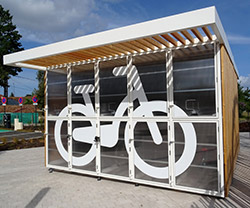 It's better to park securely.
Local authorities and SNCF stations provide secure, sheltered bike parks.
Secure bike parking is available at:
the following stations: Biganos-Facture, Le Teich, Gujan-Mestras and Arcachon. All stations will be equipped with bike parks in time.
at the ride-sharing car parks at Querquillas (Andernos) and Mios A660,

as well as at the bus stop at Boulevard de l'Aérium in Arès

.
Self-service bike pumps
Self-service bike tyre inflating stations are available in the Bay of Arcachon South:
Arcachon :
Péreire, place Peyneau, SNCF station
La Teste de Buch :
place Meller in Le Pyla, Cazaux, La Teste port
Gujan-Mestras :
Chante-Cigale roundabout, La Hume multimodal point, La Chêneraie, leisure area, Gujan-Mestras station (north and south), Le Teich town hall forecourt, Hyper U, SNCF station, port
Electric bike recharging stations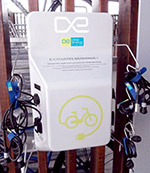 At Biganos-Facture station, alongside the secure parking area, electric bike recharging stations are freely accessible.
Tip
If you need to recharge your electric bike, go to the nearest tourist office. If they are not too busy, they should be able to let you have a little electricity.
Support and partners